When I started using a Midori traveler's notebook, I found a huge community of Midori users and that is where I first learned about the Chronodex system created by Patrick Ng.  I printed it out his templates and made my own insert for my regular sized Midori notebook.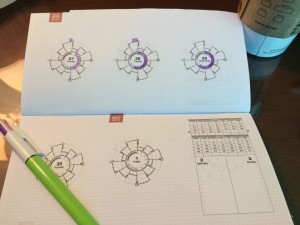 My primary interest in using the Chronodex was to track things like sleep and exercise.
Three days into using the Chronodex system, I ended up abandoning it.  My fitness tracker was more effective for tracking what I wanted to track, because it was automatic and didn't need my involvement to do that tracking.  I agree that there is an element of being deliberate when putting pen to paper and I think the Chronodex may be good tool for that.  Personally, I found that I preferred the automatic tracking of things like steps taken and hours sleep rather than the manual process.  I definitely see the value of doing a day or week or even a 30 day project of tracking to see how you are spending your time or to focus on one specific item to track, but tracking everything I did would be too cumbersome for me and I don't think it has longer term sustainability for anything beyond 30 days.
As an aside, I really like Patrick's approach to sharing his development of the Chronodex systems with people.  He gives it away for free, and simply asks for those who download it to send positive energy and prayers for his a member of his family.
Communities like this of notebook/organizer people (Midori, Filofax, & beyond) make me happy because there are others who love paper and pens as much as I do and I'm so glad they share their gifts with the world! 🙂